Mobile stone crushers are track-mounted or trailer mounted rock crushing machines that are easily movable on and between production sites. They are widely used in aggregates production, recycling applications, and in mining operations. Mobile crushers can replace stationary crushing systems, which reduces the need for hauling and thus cuts operational costs.
In early 2021, we received the inquiry from our regular Philippines customer. He need to crush the mountain stone into construction aggregates. His required capacity is 30-40 ton per hour, with input size around 200mm and final output size be less than 30mm. And he also need the crusher can be movable from one place to another.
So after mutual negotiations, we make a compound mobile diesel engine jaw crusher plant for him. The plant includes mobile trailer support, vibrating feeder, jaw crusher, belt conveyor. And because the mountain area has no electricity supply, so we equip the jaw crusher with a diesel engine and generator and vibrating feeder and conveyor is powered by the generator to work.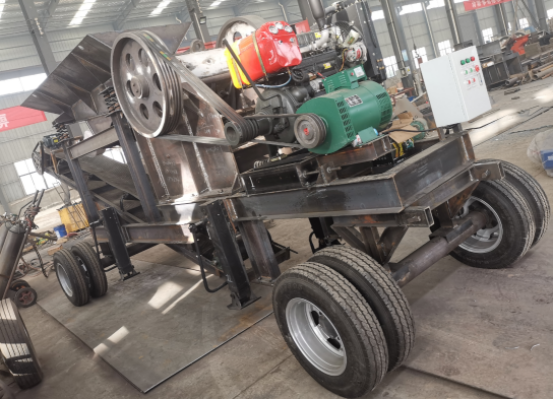 The specification of the mobile jaw crusher plant is as follows:
1.Equipment specifications
Item Model Maximum input size/mm Output size/mm Power/HP Capacity(t/h) Weight/ton
Vibrating feeder VF500x2700 400 / 1.5KW 40-70 1.1
Jaw crusher PE300×500 250 0-25 30HP 25-50 5.9
Belt conveyor B500x5.5m 400 / 3 30-40 0.85
Trailer dimension 5.5×1.2×1.1m, 1.8 ton with wheels and four support legs when the crusher is working.
After finishing manufacturing, the mobile crusher plant was take apart, so that it can be easily loaded into a 40ft container. Our workers off load the vibrating feeder, then the crusher plant was put into the container smoothly, and then the feeder was loaded also thereafter.
After arrival, the customer feedback is great. After test running, the crusher plant is put into use completely. And working performance is quite stable and the stone is crushed into the desired sizes. The diesel engine helps a lot in powering the jaw crusher and avoid the trouble of without electricity.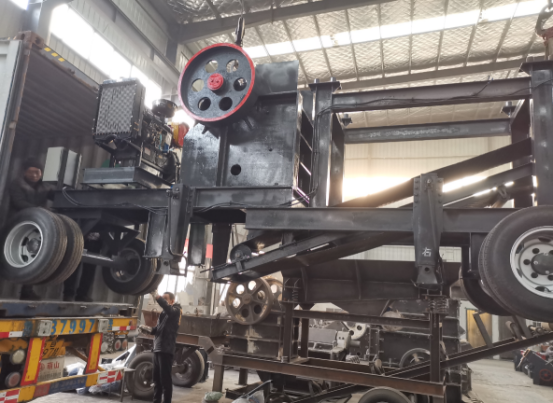 ---
Post time: 25-06-21